Bonsucro Certification
Sustainable Sugarcane Initiative
What is Bonsucro Certification?
Bonsucro Certification is a multi-stakeholder led certification program developed for the sugarcane industry to meet purchasing policies of large-scale sugar buyers seeking suppliers who support fair labor and environmental protection in sugar producing communities.
Based on the Bonsucro Production Standard, a metrics-based standard for sugarcane producers, the Bonsucro certification program relies upon very strict environmental and social requirements to protect cane field and factory workers and local soil, water and air quality. Bonsucro certified sugar accounts for more than 4% of global sugar production and allows for the sale of sustainable sugarcane credits, as well as physical traceability.
Additionally, the Bonsucro ChoC standard is a traceability system based upon the principles of mass-balance that allows downstream sugar and ethanol buyers to make credible claims linked to the production of sustainably produced sugarcane according to the Bonsucro standards. Downstream buyers must have Bonsucro ChoC certification in order to make claims related to their use of sustainably produced sugar. SCS Global Services is an authorized provider of certification services for both the Bonsucro Production standard and the Bonsucro ChoC standard.
Why Choose SCS?
SCS Global Services is globally recognized for its experience within the sugarcane sector. Our Bonsucro experts include local and regional auditors, technical specialists, and customer service representatives who deliver exceptional responses and accurate, science-based insights to meet your Bonsucro auditing and certification needs. We work closely with mills, governments, NGOs, and the private sector to contribute to the development and adoption of sustainability standards and initiatives impacting the global sugarcane industry.
SCS Global Services has been a global leader in third-party environmental and sustainability verification, certification, auditing, testing, and standards development for more than three decades. In addition to Bonsucro certification, we also provide certifications for ISCC, SMETA, FairTrade USA, and LCFS-CARB
FAQs
Benefits
Process
Certified Clients
Program Details
Program Documents
What are the advantages of working with SCS as a Bonsucro certifier?
SCS strives to provide excellent costumer service and quick responses to our clients. With local and regional teams, SCS is your trustable partner for independent third-party certification. SCS works with the main schemes for the sugarcane sector, such as Bonsucro, FSSC 22000, SMETA, FairTrade USA, USDA Organic, Non-GMO verification, ISO 14001/45001 combined audits and much more. 
How can my company prepare for certification?
Applicants can test their compliance by using the current versions of the Bonsucro approved standards and Calculator. SCS also offers pre-assessment services. For this, our team will conduct a complete audit similar to the one that will be conducted during the initial certification. A complete report with findings and observations will be delivered to the client. Teams conducting the pre-assessment and the initial audit will be different to avoid any conflict of interest.
How much does Bonsucro Certification cost, and how long does the certification process take?
Cost and length of time for the assessment differ depending on the complexity of the assessment and the requirements of the Bonsucro Certification Protocol. Contact SCS for a custom quote.
What are the main components of the Bonsucro Certification System?
Main components include the Bonsucro Certification Protocol, standards and their guidance and the Calculator. The Calculator offers a metric system to assess the compliance of your operations against Bonsucro sustainability criteria and indicators.
Does your company need to include all areas of agricultural production in the scope of certification?
The operator can choose the areas that will be included in the certification unit. It should be made clear that only sugarcane and its derivatives from the selected areas can be sold as Bonsucro certified material. Please note that 100% of the activities of the mill need to be included, regardless of the size of the agricultural area selected for certification.
How much time will my operation have to close any nonconformities?
In general, nonconformities are classified into minor and major nonconformities. Major nonconformities need to have an approved action plan and these need to be closed no later than 3 months after the audit. Minor nonconformities need to have an approved action plan and times will be agreed with the audit team. For more information please refer to the most recent version of the Bonsucro Certification Protocol.
Will my company have the chance to sell Bonsucro credits?
Bonsucro certified sugarcane farms and mills can sell their credits via the trading platform for on and off-market trading. Buyers can use the platform to make bids for Bonsucro Credits. The four types of Bonsucro credits include cane, raw sugar, molasses and ethanol credits.
Can I use the Bonsucro certification mark on product?
According to the Bonsucro Claims & Labelling Rules, the use of the Certification Mark for on-product claims can be made only if the claim user allocates 95% or more of the sustainable characteristic to the total sugarcane-derived content of a product.
Can I use the SCS Kingfisher certification mark?
Yes, clients that earn Bonsucro Certification from SCS can use the SCS Kingfisher certification mark, along with the Bonsucro mark, on-product, on your website and in marketing materials. SCS delivers a certificate with the SCS Kingfisher mark, a marketing support packet, Kingfisher logo files, and logo use guidelines. All certified clients receive individual marketing support from the SCS marketing team.
Reported benefits include:
Accident rate reductions

Less legal compliance fines

Fuel and energy savings

Reduced greenhouse gas emissions and water consumption

Access to trading platforms and credit sales

Compliance with other environmental schemes and biofuel regulations
Undergoing a Bonsucro audit and becoming Bonsucro certified helps:
Ensure people in the producer communities and workers are treated fairly

Create long-lasting, traceable supply chains

Measure your key environmental and social impacts

Improve your business' economic viability, increasing efficiency, lowering energy usage and reducing waste

Sugarcane farms and mills measure productivity and demonstrate sustainable production

Workers gain skills and knowledge of best practices when following the standard

Meet your sustainability goals

Ensure traceability from origin to end product

Brands can make third-party-backed claims about sustainable sugarcane sourcing and trading
Resources:
Full list of Bonsucro benefits can be found here: http://www.bonsucro.com/what-is-certification/
Benefits of the Bonsucro Production Standard can be found here: http://www.bonsucro.com/production-standard/
Benefits of Bonsucro Chain of Custody Standard can be found here: http://www.bonsucro.com/chain-custody-standard/
Steps to Certification
1. Scoping and Project Initiation
Client submits application and requests a quote for services

SCS confirms the project scope and provides a proposal for services

Client signs Work Order and returns to SCS to begin the certification process
2. On-Site Audit
Client provides SCS documentation (electronically) for review prior to the on-site audit

SCS auditor conducts an audit of client operations (remote or on-site, depending on travel restrictions)

SCS provides client with a report on compliance to Bonsucro standard requirements
3. Corrective Actions
Client responds to any necessary corrective actions

SCS reviews the audit report and corrective action documentation
4. Final Certification Decision
SCS head office makes a certification determination and informs ISCC if approved

Upon successful Bonsucro certification, client is issued a certificate and listed on the Bonsucro website
Below is a list of operators who are currently certified by SCS Global Services to Bonsucro:
View certifications on Bonsucro's website
To view SCS specific certifications type "SCS" in the search field at the top of the Production Certificates and Chain of Custody Certificates tables.
Eligibility
The Bonsucro certification standard is available to any sugarcane producer, sugar and ethanol mill, or any downstream processor of sugar, biofuels and other derivative products such as bioplastics. Integrated mills can target both sugar and biofuel markets, meeting sustainability requirements of both supply chains.
Bonsucro Production Criteria
Legal compliance

Respect human rights and labor standards

Manage input, production and processing efficiencies to enhance sustainability

Actively manage biodiversity and ecosystem services

Continuously improve key areas of the business

Environmental and social impact assessment for greenfield expansion and new sugarcane projects
Bonsucro Chain-of-Custody Criteria
Apply Now
Ready to start the process? Complete an Application.
SCS Certified Clients
Learn more about the clients we certify and where to find products with this certification.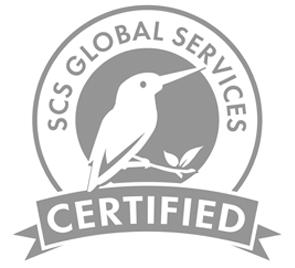 Related Services